<! close menu -> <! Menu positioning guide. This is a hack due to being added later and not part of the original design concept. It would have been nice to redo all the layout and code to avoid this but there is no time available. I hate this type of hack... ->
How to add images to your Cart
Each user of this system is set up with different options. The checkout basket may not be available to you or you may not have the ability to upload images to the library. See your Manager if you think either of these should be available to you.
After successful login (and catalogue selection if you have access to more than one) all the images in the catalogue are displayed.
Terms entered into the search field will be individually searched. ie: each word not the phrase unless enclosed in quote marks like this: "find this phrase".
Clicking on the thumbnail (1) will show you a larger image and more details about it (2). The 'Previous File by ID'/'Next File by ID' move through the images by the order in which they where added to the catalogue. (2)
If you want to place an order (and this is available to you), click 'Add to Cart' next to the image you want (3). Repeat this for each image you want.
Click 'Checkout' (4) to fill in and send the order. This button is only visible once images are added to your Cart. There is a counter for the number of items in your Cart so you can check that the image has been added. You can check your cart by clicking 'View Cart' at any time.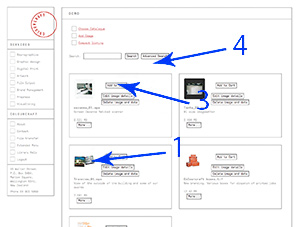 At the Checkout
Preferred medium - use email for downloading of smaller files or CD for larger files. FTP is available in some cases.
You may be asked for an order number - if you are it is required.
You may also be asked for a client name - if you are it is also required.
Image sizes
Large Format Digital: we recommend 72dpi at final print size as a minimum
Small Format Digital: we recommend 200dpi at final print size as a minimum
Offset Print: we recommend 300dpi at final print size as a minimum
Admin users
'Edit details' allows you to change information about the image. Remember to click 'Update File' after entering the information. Any changes are immediate and irreversible.
'Delete Image and Data' will remove the image and its associated records from the library. This is irreversible and immediate! Check twice that you have the right image.
To return to where you were click here or press the back button on your browser.

<! pageContainer/imageContainer/detailContainer>

<! close contentContainer ->